Bright, Young, and Luxe Giveaway!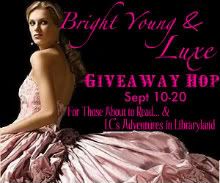 Hi, everyone herunterladen! Today is the start of the Bright, Young, and Luxe giveaway hop, hosted by For Those About to Read and LC's Adventure's in Libraryland. 
This giveaway hop celebrates the anticipated release of the second book in Anna Godbersen's
Bright Young Things
 series,
Beautiful Days for free!
 I loved the first book in the series, and am so exited to read more about the girls' adventures. To spread the
Beautiful Days
love, I'm giving away one hardcover of the book, which comes out on September 20th, the day the giveaway is over
kostenlos taschenrechner herunterladen
! And because it also includes historical elements, I'm throwing in a paperback copy of my novel,
Remembrance,
as well!
Good luck to everyone who enters whatsapp herunterladen für mac! And remember to view the rest of the blogs involved in the hop — you can find links to them by clicking here app zum gratis filmeen.
RafflecopterSettings = { raffleID: 'MmNlNTdkYTI3NDhlNzk1Y2VjZDE4MjdiMzc1NTNlOjI=' };
http://www.rafflecopter.com/static/js/widget/rafl-widget.js
<a href="http://rafl.es/enable-js">You need javascript enabled to see this giveaway</a> facebook live stream.