Giveaway: Fire Falling by Elise Kova!
To celebrate the release day of Fire Falling by Elise Kova, I'm giving away one paperback of this amazing book! If you haven't heard of Fire Falling, learn all about it below — and then enter to win on the Rafflecopter!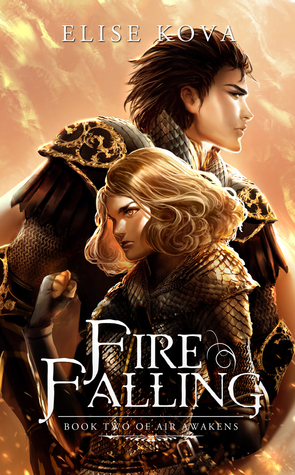 Soldier… Sorcerer… Savior… Who is Vhalla Yarl?
Vhalla Yarl marches to war as property of the Solaris Empire. The Emperor counts on her to bring victory, the Senate counts on her death, and the only thing Vhalla can count on is the fight of her life. As she grapples with the ghosts of her past, new challenges in the present threaten to shatter the remnants of her fragile sanity. Will she maintain her humanity? Or will she truly become the Empire's monster?
Fire Falling is the second book in the Air Awakens Series.
My Goodreads review:
Get ready for twists that you won't see coming! Higher stakes, powerful magic, and forbidden romance make Fire Falling impossible to put down. A must-read for fans of Throne of Glass and Graceling!
PURCHASE FIRE FALLING:
ENTER TO WIN
This giveaway is international, as long as Book Depository ships to your country.